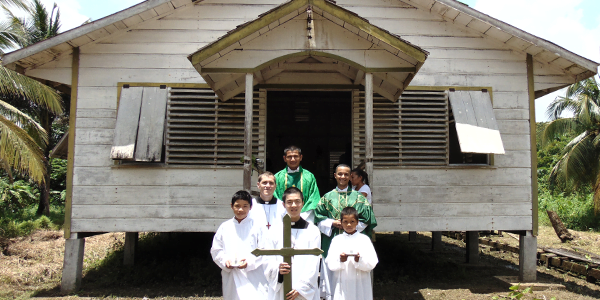 This past August, Fr. Humberto Villa asked recently ordained Fr. Juan Pablo Palacio to give a Popular Mission at one of his rural parishes in Guyana, the smallest country in the Province of the Immaculate Conception of the Institute of the Incarnate Word (IVE). The mission this year was held at St. Thérèse of Lisieux Catholic Church, a small parish which sits on the banks of the Pomeroon River and is about two hours by boat from the town of Charity. Fr. Juan Pablo's team of missionaries included Fr. Fernando Flores (also recently ordained), three seminarians, nine religious sisters, and seven lay missionaries.
In Guyana, five IVE priests care for more than twenty parishes, maintain, and run a dormitory for boys. This summer's mission offered additional spiritual food to parishioners who lack regular contact with a priest. Of special emphasis were the sacraments, catechism, and giving a witness of Christian joy.
The mission in the parish of St. Thérèse took place from August 9-19 in the town of Kabakaburi. Faced with minor obstacles such as the unforgiving heat and persistent mosquitoes, the missionaries kept busy. Daily highlights included morning Adoration, afternoon Rosary processions and Holy Mass, and the evening Missionary Act. During the day, many missionaries visited homes while others offered the many youth various activities such as sports, art classes, and catechism. Each night's Missionary Act lasted nearly two hours and included a bonfire, or as the locals call it, a "bamboo fire," a sort of tropical hootenanny including live music, skits, a piñata, and catechism for the families.
The missionaries were inspired by the supernatural joy and faith of the Guyanese people. Despite their poverty and daily hardships, they possess a contagious desire to know God. Many thanks to all who supported the mission from afar, and through the intercession of the Blessed Virgin Mary, may the seeds planted during this mission produce abundant fruit!