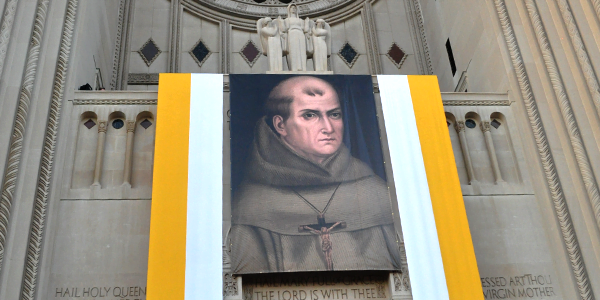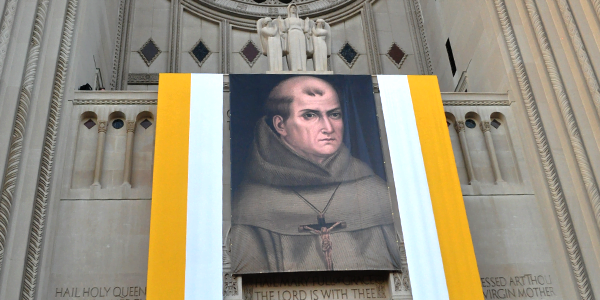 The Apostolic Visit of His Holiness Pope Francis to the United States from September 22-27 has officially come to a blessed close. Millions of Americans, believers and non-believers, were captivated by the Holy Father's presence and many were touched by his healing words. Priests and seminarians of the Institute of the Incarnate Word (IVE) were among those who were able to participate in several of the events highlighted on the pope's itinerary.
On September 23, 2015, on the feast day of St. Pio of Pietrelcina, priests and seminarians of the Province attended the special Canonization Mass of St. Junipero Serra celebrated by His Holiness Pope Francis at the Basilica of the National Shrine of the Immaculate Conception in Washington, DC. After having stood in long lines outside the Basilica hours before the beginning of Mass, many seminarians were rewarded with some very close sightings of the pope.
On September 26, His Holiness gave an address to thousands gathered outside Independence Hall in downtown Philadelphia. In attendance were four seminarians, several sisters from the Servants of the Lord and the Virgin of Matará (SSVM), and over two hundred parishioners from St. Rocco Catholic Church. The Holy Father talked about the need for the country to grow as one, yet also encouraged its citizens to not forget their own individual histories and heritage. In addition to the speech were musical acts and talks given by various other guest speakers. Immigration-related themes discussed included the brokenness found in many immigrant families split apart by national boundaries.
Seminarians and priests gathered together to meet in Philadelphia for the closing Mass of the World Meeting of Families Congress on Sunday, September 27, 2015. The Mass was preached and celebrated by His Holiness. Over one-thousand priests and bishops concelebrated, and almost one million faithful were estimated to have lined the wide Benjamin Franklin Parkway for the event. It marked not only the close of the Congress, but also the end of the Holy Father's Apostolic Visit to the United States.