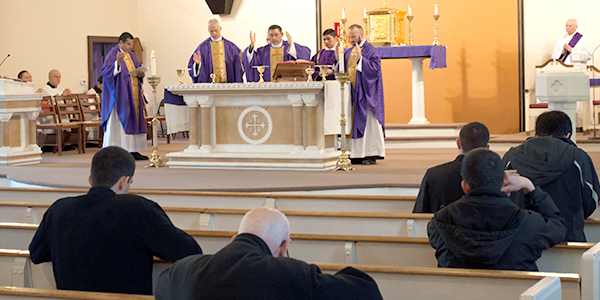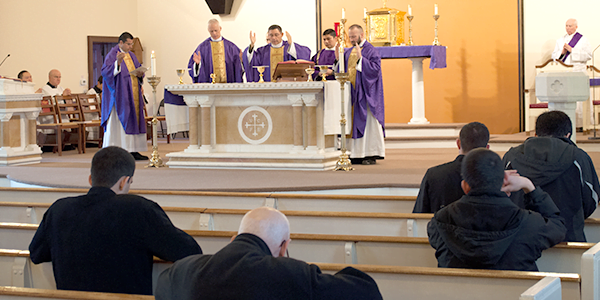 From February 28th to March 4th, silence permeated the Venerable Fulton Sheen House of Formation as most of its resident male religious undertook their annual, week-long spiritual exercises. This period of silent reflection and spiritual growth is a grace that the seminarians of the Institute of the Incarnate Word (IVE) are privileged to participate in every year.
Immediately following the community dinner on Sunday night, seminarians from third-year philosophy through fourth-year theology, a graduating high school seminarian, a first-year philosophy seminarian recently arrived from Guyana, several visiting IVE priests, and several other male religious observed a rule of silence which was to pervade the seminary grounds for the duration of the entire week.
Father Mariano Varela, IVE, pastor of Sts. Peter & Paul Catholic Church in Mankato, Minnesota, came all the way from Maryland to preach the exercises. Meanwhile, seminarians from first- and second-year philosophy – each of whom had taken the month-long exercises the previous summer – offered themselves to the service of their fellow brothers and priests by serving the retreat.
Even though everyone had already been familiar with the format of the exercises, they nonetheless served as another reminder to undergo constant conversion. From Saint Ignatius's Principle and Foundation to the final Contemplation to Attain Divine Love, the exercitant was told time and time again to follow and imitate Christ by detaching oneself from all disordered attachments – be they material comforts, worldly thoughts, honors, affections, etc. – and choosing to follow the banner of Christ the King, even in the midst of humiliations and sufferings.
The Spiritual Exercises have long enjoyed papal enthusiasm and approval. Not long after Saint Ignatius had first penned his Exercises, Pope Paul III, looking over the saint's papers, famously exclaimed, "The finger of God is here!" Pope Pius XI appraised the Exercises as "adorned by the full and repeated approbation of the Holy See" and holding "foremost place" among spiritual works. Pope Saint John Paul the Great, the beloved co-patron of the IVE, affirmed that the Exercises are "always an efficient remedy to the evil of the modern man."
The IVE Constitutions (§264) point out how important the exercises are in the ongoing formation of the members of the Institute. They cite how spiritual activities of this sort are acts of justice to the souls of our apostolates, each of which deserves to have ministers of God that are true followers of the Incarnate Word.
We pray that these exercises bear good fruit in the lives of each of the participating priests, seminarians, and religious, and that Our Lady give them the grace to persevere in their resolutions for the greater glory of God.
Saint Ignatius of Loyola, pray for us!