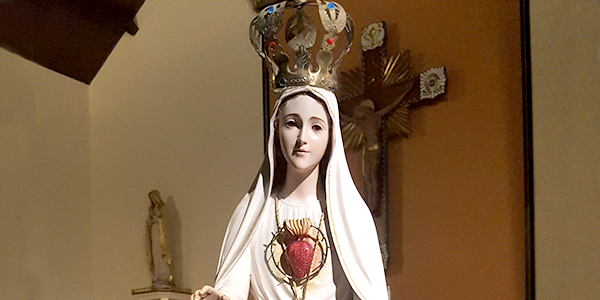 Over the last several weeks a statue of Our Lady of Fatima has been making its way around the various IVE communities in honor of the upcoming Centenary of the apparition of Our Lady of Fatima on May 13th 2017, in Fatima, Portugal. The promulgation of this devotion quickly spread throughout the whole world. Devotion to Our Lady of Fatima and in answer to her request brought forth the imperative consecration of the entire world to the Immaculate Heart of Mary in 1942, by Ven. Pope Pius XII; and twice later renewed by Pope Paul VI and Pope Saint John Paul II (1967 and 1982).
On May 13th 1917, almost one hundred years ago, in a small village of the Diocese of Leiria, Portugal, Our Lady appeared to three young and pious shepherd children who would often pray the rosary. The little shepherds did not know exactly who she was throughout the six months of apparitions, but remained obedient to her request. She asked them to pray the rosary daily for two reasons; first, for the conversion of sinners and second for the end of the war (this was during World War I). It is also recorded that she asked the little shepherds to recite the Fatima Prayer that is now usually recited at the end of every decade of the Rosary. Our Lady, after six months of pious prayers from the three children, revealed herself as Our Lady, later this apparition would take the title Our Lady of Fatima, according to the location of her apparition.
Pope Pius XII, 25 years later, consecrated the entire world to the Immaculate Heart of Mary expressing the essential and beneficial maternity of Mary in the world, as she herself said to the little shepherds, "God wants to establish in the world devotion to my Immaculate Heart. If you do what I tell you, many souls will be saved, and there will be peace… [and]…in the end my Immaculate Heart will triumph."
Realizing the significance of this devotion the IVE Province of the Immaculate Conception has decided to have a traveling Statue of Our Lady of Fatima. Over the last several weeks she has been making her way around the various communities (houses of formations, convents, and apostolic houses). The Rosary has been prayed in community to remind us of the importance of our fourth Marian Vow in Slavery of Love.
"We exhort all the sons of the Church" says Pope Paul VI in his Apostolic Exhortation Signum Magnum, "to renew personally their consecration to the Immaculate Heart of the Mother of the Church and to bring alive this most noble act of veneration through a life ever more consonant with the divine will and in a spirit of filial service and of devout imitation of their heavenly Queen."