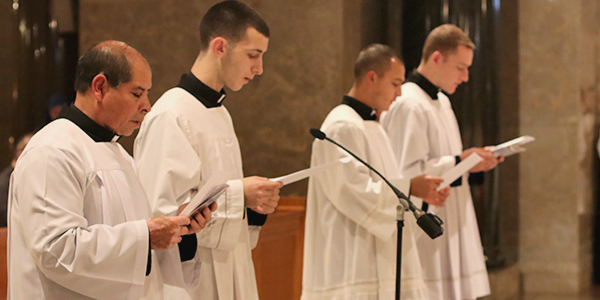 On the same day the universal Church celebrated the feast day of St. Andrew the Apostle, 4 IVE seminarians from the Province of the Immaculate Conception solemnly professed their first vows of poverty, chastity and obedience. Also included in the Mass, 12 novices received their new habits and 18 seminarians renewed their profession of vows.
Many families and friends were present for the celebration. The Mass was offered in the crypt church at the National Shrine of the Immaculate Conception. Visitors came from a wide range of places – some from as close as Virginia and others from Connecticut, Iowa, Wyoming, and California.
The IVE Constitutions praise the religious vows and highlight 4 advantages to their profession. First, they help us to live our baptismal grace in the most effective way. Secondly, they resemble martyrdom, since one dies to the world in order to unite themselves to Christ. Thirdly, the vows constitute a total gift and true holocaust of oneself, and finally the person becomes a sacred and consecrated person destined for divine worship."
Speaking to those who received their new habits, offered insightful words in his homily. He encouraged the brothers to wear their habit with pride and make a sincere effort to give everything to God. He noted that "the black robe is not just a piece of cloth but a way of life", echoing the words of St. John Paul II in his Apostolic Exhortation, Vita Consecrata, who said "the habit is a sign of consecration, poverty and membership in a particular Religious Family."
The cassock had been abandoned in recent times, but many people are re-discovering the usefulness of this visible sign. Msgr Pope, a well-known Catholic writer and priest of the Archdiocese of Washington, says the cassock is a bit like something relegated to the attic by one generation…and brought down like a treasure by the next." The cassock has always been a distinctive sign for the IVE religious family. St. John Paul II and Vatican II both recommend its usefulness and the IVE has always taken great joy in wearing the religious habit.
Following the Mass, the celebration continued at the parish of St. John Baptist de La Salle. The Brothers served milanesa and many of the Priests, Brothers, and Sisters sang various songs after dinner. The final song of the feast was a song to Our Lady which was offered by the 25 visiting minor seminarians who were in town from St. José Sánchez del Río High School Seminary in Mankato, Minnesota.
---
Vita Consecrata #25
Cons. 49-52
Msgr. POPE, Charles; http://www.ncregister.com/blog/msgr-pope/why-traditional-priestly-cassocks-are-making-a-comeback