Priestly Ordinations in the United States and Italy
Father Kevin Stolt, American, Received Holy Orders in Washington DC
First Mass
Father Martin Connolly, Irish, Received Holy Orders in Montefiascone, Italy
First Mass
The SSVM and IVE Novices in Italy Received the Religious Habit on the Feast of Saint John of the Cross
Living Nativities
In Mankato, United States
In Cannet, France

In Luxembourg
In the Saint Martin of Tours Home of Mercy in San Rafael, Argentina
In the School of Saint Pio in Ecuador
In the Parish of Saint Maximilian Kolbe in San Rafael, Argentina
Popular Missions
In the Village of Waramo in Papua New Guinea
In Saint John the Baptist Parish in Osasco, Brazil

In the Saint John Paul II Parish in the City of Julia, Brazil


In the Parishes of Saint Clare and Saint Francis in Sao Paolo, Brazil

In the Saint Rose Parish in La Plata, Argentina
In the Parish of Saint Louis King of France in Guayaquil, Ecuador
New Foundation of the Servidoras in Nizhnevartovsk, Russia
We would like to share some great joy from our province, "Our Lady of Kazan" that will also be a joy for all of you: today, December 19th, on the feast of Saint Nicholas of Bari for the Greek-Catholic church, we officially opened the new community "Our Lady of Siberia" in the city of Nizhnevartovsk, Russia. The sisters will help with the parish (liturgy, catechesis, work with the children and families) in four different parish communities: three Greek-Catholic, and one of Latin Rite, under the care of a diocesan priest…
Fifteenth Anniversary of Priestly Ordination
Fathers Osvaldo Rodríguez, Damián Morales and Lisandro Bonatti.
The First Mass Ever Celebrated in the Village of Ufigula, Tanzania
Patronal Feast of the Immaculate Conception in the Parish of Jabarovsk, Russia
Fifteenth Anniversary of the Saint Nicholas Home of Mercy in Ukraine
Tenth Anniversary of the Residence for University Students in Tunisia
Feast of Our Lady of Guadalupe in the Parish of Saints Peter and Paul in Mankato, United States
Feast of Mary Immaculate
In Montalto di Castro, Italy
The statue of Our Lady was carried by the confirmation children and the procession ended with each child offering a flower in honor of the Mother of God.
In the Parish of Saint Joseph of Anchietta, Brazil
The praying of One Thousand Hail Marys, the renewal of the commitment of the Members of the Third Order, Consecration to Mary according to Saint Louis Marie, Consecration of the Daughters of Mary and a Christmas Concert to Honor the Mother of God on the day dedicated to her.
Reception of the Monastic Habit in the Shrine of Our Lady of Canneto, Italy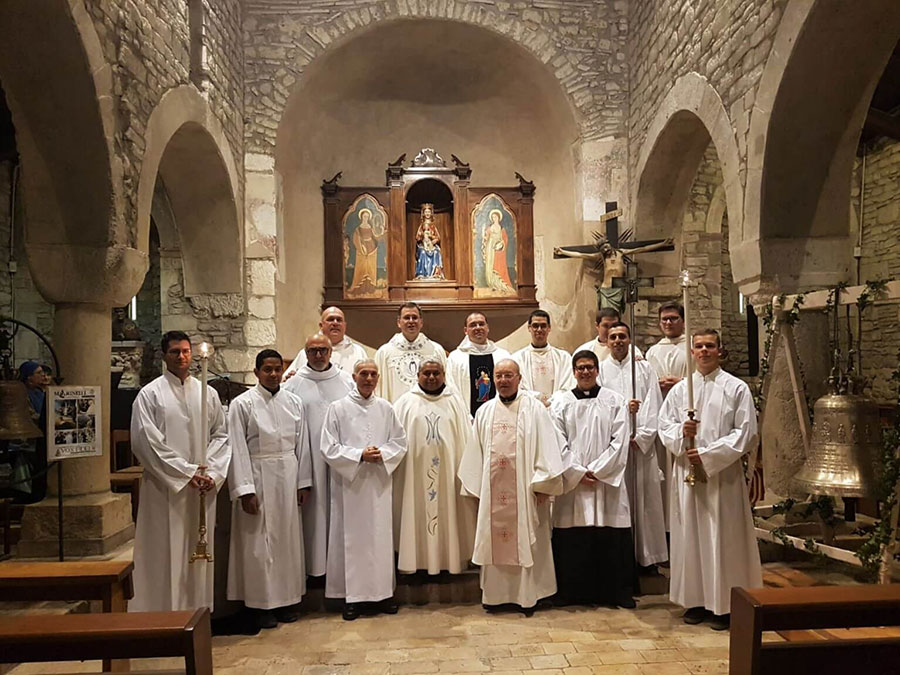 Feast of Blessed Maria Victoria de Fornari Strata, Patroness of the Monastic House of Formation in Genova
Voces Verbi Meeting in Salerno, Italy
Mission in Cotahuasi, Peru
First Communions in the Saint Rose Parish in La Plata, Argentina
Choir Practice in Baghdad to add to the Beauty and Solemnity of the Christmas Liturgy
With great effort the youth of our choir gather to add solemnity to all of the feasts of our Cathedral. They come from different parts of the city and some from quite far, with the streets barricaded by manifestations and the control points by the military that increase the distance for regular traffic.
Testimony of a Volunteer in the Sacred Heart Home of Mercy in Chile
First Communions in the School of Makabata, Philippines
Posadas and Nativity Scenes in the Missions
In Maryland, United States
In the Monastery of Our Lady of the Smile in Canetto, Italy
In the Holy Family Monastery in Sepphoris
In the Novitiate of the Servidoras in Tanzania
Christmas Festivities in Iceland
Baby Jesus Visits the Prison in Lipa, Philippines
Apostolate in the Refugee Camp in Baghdad, Iraq
Christmas Activities in Hsinchu with the Pro Life Group
The Sisters Studying in Taiwan Invited their Fellow Students at the University to Help Decorate the Convent for Christmas
Heroic Night, Feast of Christ the King and of All Saints in the Parish of Our Lady of Lujan, Philippines
Communities of the Servidoras in Russia
The Persevering Work of the Orchestra in Papua New Guinea
Song to Our Lady by the Servidoras in Holland
Volunteering in Lipa, Philippines

Camp for Girls in Camana, Peru
Arranging the Nativity Scene in Lithania
Preparing the Gifts from Saint Nicholas for the Children – the Novices in Ukraine
Third Order Meeting in La Plata, Argentina
The Youth from the Purisima School had a Day of Formation and Recreation in the Juniorate in Philippines

Visitors to the Novitiate for the Investiture from Spain and Holland
Apostolate with Adolescents in Lithuania
Invitations
Universitas
Come and See in Peru

Spiritual Exercises



Videos
Pilgrimage to Our Lady of Loreto (In Italian)
Testimonies
The vocation: Fr. Ezequiel Ayala, missionary in Russia "Here I am, happy to have lost that day" (In Spanish)
Father Kevin Stolt shortly before his priestly ordination (In English, with Spanish subtitles)
The Novices who received the religious habit in Italy (In Spanish and Lithuanian)
Father Bernardo Ibarra presents the series of chronicles on the mission in the Solomon Islands (In Spanish)
Homily for the Third Sunday of Advent (In Spanish)
Homily of the Mass in which the Novices Received their Religious Habit in Italy (In Italian)
Missionary Cartuchos (Brief Messages on Church Teachings)
Sacramental Confession, in La Pintana, Chile
How much a Priest is Worth! (In Italian)
Called to be with Jesus (Portuguese)
Good Teacher, What Must I do to Inherit Eternal Life? (In Spanish)
Hope for Gaza – How the Small Christian Community Lives (in Italian)
—
IVE Communication Team
Institute of the Incarnate Word
www.ive.org
http:www.instituteoftheincarnateword.org