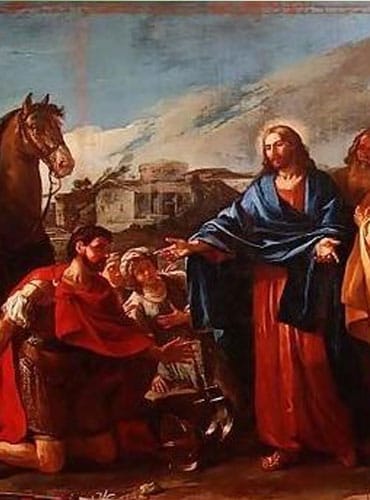 Monday of the First Week in Advent – Option 1 – Mt 8:5-11
Today's Gospel presents us with the centurion who approaches Jesus and asks that his servant be healed. The Roman solider shows a great deal of virtue that we can meditate upon. In the Opus imperfectum, a 5th century commentary on the Gospel of Matthew, we read the following: "What do we first admire in the centurion? His humility, or his faith, or his wisdom, or his kindness? His humility, because he did not think that he was worthy to welcome Christ into his home. His faith, because He believed that Christ could do what he was asking. His wisdom, because without anyone pointing it out to him he saw clearly the divine treasure hidden in the field. . . .   His kindness, because he so diligently hastened for the health of a slave, counting his death to be not a loss of money but of health." In particular, we can consider just the first, his humility.
Although we know that the centurion was humble in his dealings with Christ, telling him not to come to his house, it's also clear that the centurion was especially humble with regard to his slave. The commentary says that in caring for his slave, the centurion "honored the image of God more than he despised the work of captivity." In other words, even though he was the master, and would have had the power of life or death over his slave, that's not what mattered to the centurion: what mattered was that the slave, too, was made in God's image, and so was equal in dignity and worthy of love and respect. It's this humility with respect to others that led the centurion to Christ, and to his humility in dealing with the Son of God. On the contrary, had the centurion exalted himself in his role as master, he would never have cared enough to seek out Christ, and would have missed the opportunity to seek the healing of his slave, and, presumably, salvation for himself.
This is exactly what Saint Peter writes in his first letter: "All of you, clothe yourselves with humility in your dealings with one another, for God opposes the proud but bestows favor on the humble. So humble yourselves under the mighty hand of God, that he may exalt you in due time" (1 Pt 5:5-6). We might think ourselves better than others, or have authority over them, but our dealings must always be marked with humility.
We can find a modern example of this humility and love for others in the life of Blessed Titus Brandsma, the Dutch Carmelite martyred in Dachau during the Second World War. Even though he and his fellow prisoners were horribly mistreated in the camp, he would tell them to pray for their captors. "They, too, are children of the good God," he would remind them, "and perhaps something [good] still remains within them." "For everyone he had a smile, an understanding word, a kind gesture. The very nurse who . . . injected him with deadly poison, later testified that she always retained the vivid memory of the face of that priest who 'had compassion for me.'"[1] He treated her with the gentleness and respect of a father and she recounted that, "He once took my hand and said to me, 'What a poor girl you are, I will pray for you.'" That example of humility was what stuck with the nurse, and would lead to her giving testimony for Brandsma's beatification, as well as her own conversion.
Saint Paul writes the Colossians: "Put on, as God's chosen ones, holy and beloved, heartfelt compassion, kindness, humility, gentleness, and patience." We can ask ourselves how well we put on those virtues, and ask, through the intercession of Mary, Our Lady of Expectation, to take advantage of this Advent season to grow in our faith and love for Christ, especially by growing in humility.
---
[1] Ferdinand Holbock, New Saints and Blesseds of the Catholic Church, Vol. 2 (San Francisco: Ignatius, 2003), 111.
The post Homily November 28th, 2022  appeared first on IVE Priest.